Eleanor "Ray" Bone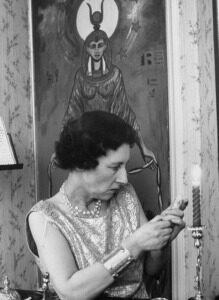 Eleanor Bone was born on the 15th of December 1911 in Fleet, Hampshire as Eleanor Margaret Tilley. She was called Ray by all her friends and acquaintances. Her mother, Emma Tilley (nee Roper) was a school mistress and her father Charlie Tilly was the secretary of a local golf club at the time of her birth. On Eleanor Bone's wedding certificate to Bill in 1958 her father is listed as a retired army colonel.
Not much is known about Eleanor Bone's early life, apart from the few things that she disclosed in newspaper articles. According to those, she developed an interest in alternative religion at age 8, after her cat died and she was told by the Vicar that animals didn't go to heaven. Eleanor spent time during the war in Cumbria to avoid the London blitz and it is there that she is said to have met a couple who were practising traditional Witchcraft.
It is unclear how Eleanor spent the period between the Second World War and her involvement with the London Witchcraft scene. Eleanor had two children before the war with Jacob Posner, a son called John and a daughter named Francesca. It is possible that she was married several times, because when she married her last husband William 'Bill' Bone, she was using the surname Newton.
Eleanor and Bill Bone were married on the 5th of July 1958. Bill was sixteen years younger than Eleanor, and his profession is listed as an "engineers instrument maker". At the time of their marriage, Eleanor Bone was already running the Brackenburn Rest Home for the elderly in Tooting Bec, London. They took up residence in Eleanor Bone's home on Trinity Road, nearby the rest home.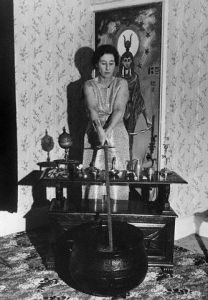 It is unknown when exactly Eleanor Bone approached Gerald Gardner about the Witchcraft cult, but it was most likely in late 1959 or early 1960. Eleanor wrote a letter to Gerald that she wanted to join the Craft, and he referred her to the Bricket Wood coven which was based in London. Eleanor went to meet the coven, but she was not a good fit for them. The Bricket Wood coven consisted of young people in their twenties, actively experimenting with the 1960s movements of political change and free love. Eleanor Bone was the stern matron of a rest home, rather conservative in her political views and she speaking with an upper class accent. Jack Bracelin, who was the High Priest of the Bricket Wood coven at the time, decided he could not see a reason to deny her initiation. He organised for Eleanor to be given her first degree initiation by one of the other High Priests of the coven. The group decided that they really couldn't do much else for her after that, and referred Eleanor back to Gerald Gardner who proceeded to give her second and third degree. By 1961 Eleanor Bone was ready to start her own coven.
Eleanor Bone continued to run a coven in London for two decades and appeared frequently in the newspapers and magazines. She always made a very dignified impression and worked hard to improve the reputation of the Craft. During this time she trained many people and helped them along the way to set up their own covens.
Two of those covens are most notable, the first one being known as the coven in Whitecroft Way, and the second as the Brighton Coven. The majority of the European Gardnerian initiates trace their origins to either of these two covens.
In the late 1970s, Eleanor Bone retired to Alston in her beloved Cumbria to run a nursing home there. Sadly the home was closed down after only a few years due to financial mismanagement. Eleanor and Bill had to move into a council house in Garrigill, a few miles from where the nursing home was located. The couple became estranged, but they continued to live in the same house until Bill died on the 24th of August 1984. Eleanor had his remains cremated and buried his ashes in the local cemetery on the 30th of August. She performed the service herself, without permission from the council and no official records exist of where he was buried.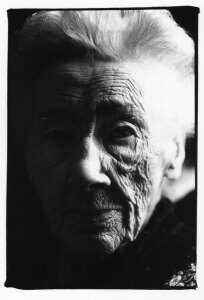 During her years in Garrigill after Bill died, Eleanor started another coven that was to be active for at least a decade. Her son John visited her regularly, until he died in 1999. He was also cremated, and Eleanor kept his ashes in her house. Her final years were lonely ones: the coven had disbanded, and most of the London Wicca community had lost touch with her. Her only friend lived a few houses down, an elderly lady with whom she did crossword puzzles and exchanged crime novels from the library. Some of the local ladies would cook for Eleanor, and the housing inspector of the council would bring her shopping on Thursdays. Just before the autumn equinox in 2001, Eleanor's health took a turn for the worse. Her carer checked up on her each day, and found that Eleanor had passed away in her sleep on the 21st of September 2001.
Eleanor died penniless. Her belongings were sold to cover the basic funeral expenses and the ashes of her son John were buried with her. She was interred in an unmarked grave at the back of the cemetery in Garrigill. Apparently the local community were too scared to have a Witch in a prominent place in the cemetery.
The Wicca community might have lost contact with Eleanor Bone during her later life in Cumbria, but she is recognised today as one of the most influential people in our community. Without her hard work, the Craft community would not be what it is today. The Eleanor Bone Memorial Fund was set up in recognition of her hard work and endeavours to give her the dignity and respect of a permanent marker of her life: a gravestone.