Published in the Lawrence Journal, November 25 1971. A similar article was published in The Day, The Times News, The Free Lance-Star, The Southeast Missourian, The Sumpter Daily Item, The Nevada Daily, The Sydney Morning Herald and quite a number of other newspapers.
LONDON (AP) – Black Magic is spreading across England, upsetting village vicars and serious witches alike.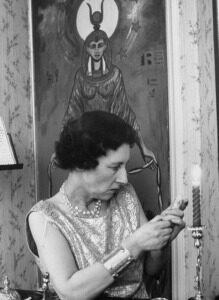 "All this devil worship is attracting people to the wrong sort of cult." complained Mrs. Eleanor Bone, a "white" witch who says the only spells she casts are good ones that help in such ways as trying to remove warts.
Mrs. Bone runs a coven – six couples, plus Mrs. Bone as priestess – in the London suburb of Tooting Bec. Evil spells, she says, have no place in their monthly dances around a fire, but amateur dabbling in the black arts is getting them a bad name.
Church leaders are similarly worried about the growing interest in the occult.
"We are frightened of what seems to be a steady and continuing growth in the popularity of witchcraft and devil worship," said a Church of England spokesman, "and it is frightening to realize it is attracting young people."
There have been a number of bizarre events in England, apparently linked to the black magic craze. A child's body was stolen from a grave. A young man hanged himself after his girlfriend hexed him. Another youth was charged with murder after the body of an earl's grandson was found next to a bloodstained letter containing the words "Hail Satan." The letter also had the Lord's Prayer written backwards – a favorite black magic incantation.
"This is a problem that the Church has not met for the past 200 years," the Rev. Tom Willis told an Anglican Church synod last weekend. "But priests are now finding all over the country that they are having to cast out devils and evil spirits. "People are turning away from material things like cars and refrigerators … the supernatural gaining ascendancy.
"More and more people are dabbling in fortune telling, home seances, witchcraft and black magic."
Police say some members of the score or so of black magic groups in the London area, who dance naked and conduct perverted church services, are respectable businessmen.
Con men have cashed in on the growing interest in the occult. A Birmingham "faith healer" got an eight-year jail sentence for defrauding 670 pounds – $1.670 – out of women by "removing evil spirits" through such techniques as anointing them and having sexual intercourse with them.
Sales are booming at the psychic bookshop on London's Great Queen Street. Recent best sellers include "Through the Mists," " I hear a Voice" and "Life Begins at Death."
A gloomy London restaurant called Cafe Macabre is decorated with plaster skulls and coffin-shaped tables. It saw the stage debut of Alex Sanders, 45-year-old self-proclaimed "King of the Witches," who takes his ritual stage act around the country.
Mrs. Bone, the white witch, protests about the dabblers in the occult: "There are just too many half-baked groups springing up."
She says her own coven tries to help people and asks no money for its services.
"We  do not hold sex orgies" she said. "We do not drink. We live normal lives. We believe that our faith is the oldest religion and we try faithfully to follow it."